BPIS BISS GCH Soundviews Valiant Queen of Epoch, Bc
"Lucy"
***Retired***
DOB 10/02/2013
OFA Hips Good, Elbows Clear
EIC Clear, HPNK clear, PRA clear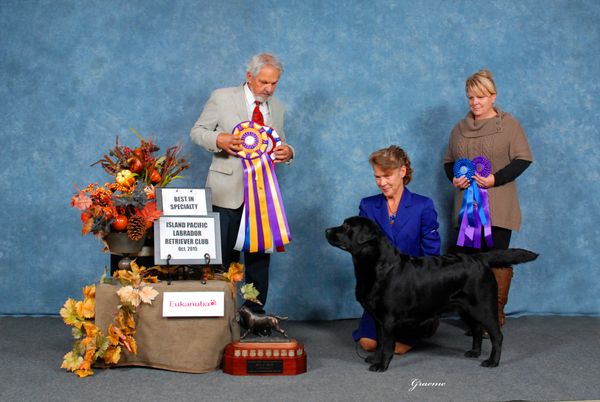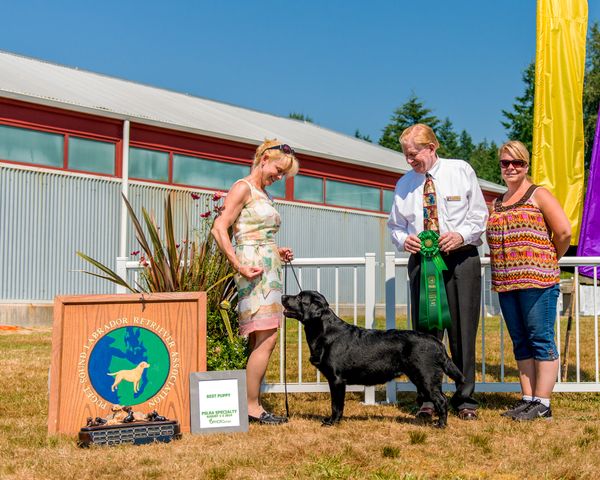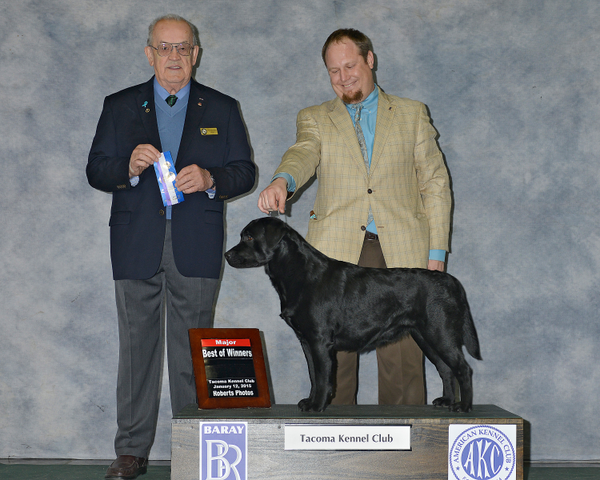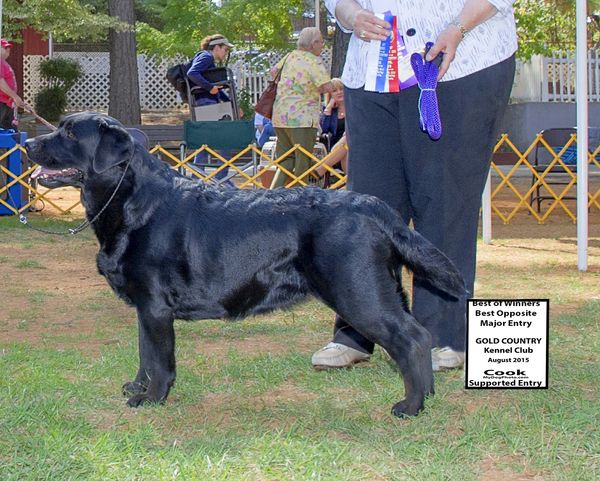 Lucy is out of GCH Epoch's Miss Kitty at Soundview "Pepper" and GCH Epoch's Moccasin Joe " Grizz". This was an extremely difficult litter to choose our "keepers" from as every single puppy could have gone in to the Show Ring!  Lucy was Best Puppy in Specialty at our Local Puget Sound Labrador Retriever Club in August 2014 at 10 months old. Lucy finished her Championship in April of 2016 and is one win shy of her Grand Championship. Lucy is a fabulous mother and producer, giving us three strong litters and two beautiful boys to carry on here at Soundview. Lucy is enjoying a much deserved retirement!
August 2014 Puget Sound Labrador Retriever Association Specialty Best Puppy in Specialty Judge: Greg Lynch
January 2015 Tacoma Kennel Club Winners, Best of Winners, Best of Breed~3 point Major Judge: Col. Joe Purkhiser 
May 2015 Olympia Dog Fanciers Winners~2 points Judge: Mrs. Gloria Geringer
May 2015 Mt. Baker Kennel Club Winners, Best of Winners, Best of Breed~2 points Judge: Mrs. Claire (Kitty) Steidel
June 2015 Clackamas Kennel Club Winners~1 point Judge: Mr. James Frankhauser
August 2015 Gold County Kennel Club Winners, Best of Winners, Best of Breed~3 point major Judge: Miss. Virginia Lyne
October 2015 Island and Pacific Labrador Retriever Club Regional Specialty Best of Breed Judge: Jean Loui Blais
February 2016 Linn County Kennel Club Winners~1 point Judge: Nancy Liebes
April 2016 Palouse Hills Dog Fanciers Winners, Best of Winners, Best of Breed~3 point major Judge: Mrs. Honey Ann Glendinning
October 2016 Labrador Retriever Club National Specialty Judges Award of Merit Judge: Jean Louis Blais
GCH Quail Chase Broadway Joe Windfall

Ch Caven's Cocoa-Mo Brute

Dune Dancers Windfall Margarita at Quail Chase

Ch Stonecrest Davy Crockett

Windfall's Mardi-gras Merengue

BISS CH Wilcare Leisure Suit Larry

Ch Lubberline Pumpernickle

Multi BISS Epoch's Brown Baggin

BonaVenture Lubberline Viscount

CH Paradoc's Tabatha Stonehenge

CH Tabatha's Rollick at Carowby

CH Empress Big Sky's Blood and Guts

CH Epoch's Dooney Ann Bourke

Oulsmi It's Just About Me

Mallorns Mr Show Business at Boothgates

Boothgates Dressed to Thrill

BonaVenture Lubberline Viscount